My interest in osteopathy started when I was an athlete, competing in the French Water Ski team for 7 years from the age of 19 years old.   We always had an osteopath to take care of us whilst travelling the world competing.  
I firmly believe that manual therapy played a key role in my success and helped me to recover from the injuries I suffered in my competitive career.
As a child, I always been very curious about how our own body function as a holistic complex system.
I first qualified in Therapeutic Yoga in the US on the beautiful island of Kauai.
Then back at school later in life, I obtained my official Osteopath national diploma in the south west of France in Biarritz, now officially register under official health government  (ARS Number  ADELI : 730001997
My practice in located in the picturesque village of Bozel, located at the feet of the national parc of la Vanoise in the French Alps and one of the best ski resort in the world, Courchevel.
Osteopathy uses different manual technics as a form of treatment. During my training of 4 years, I have been certified for all of these techniques, but I now specialise in cranial sacral therapy, soft tissue and fasciae release. 
These techniques involve body manipulations that are very soft, enabling me to treat your whole body without any "cracking".
As a mother of 2 kids, I have developed a personal interest around osteopathy  for children, new born baby and pregnant women and I have also specialised myself in that field and learn the appropriated technics along side professionals Doctors, gynaecologist and midwife.
I would like here to express all my gratitude for the transmission of their wise knowledge.
Thank you to :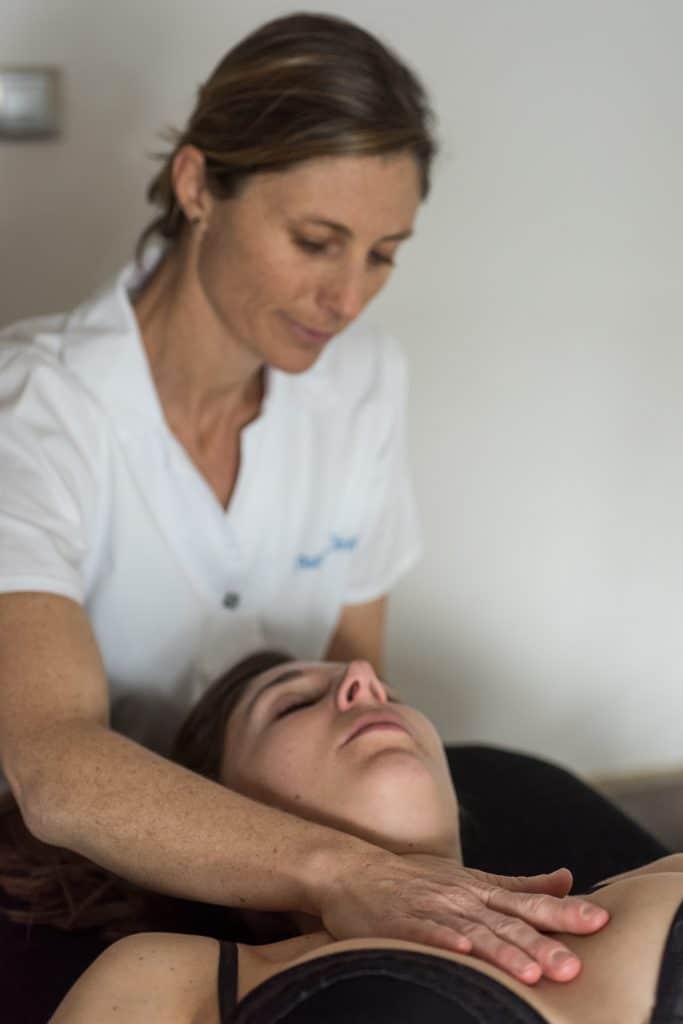 More infos ...
OSTEOPATH Treatment
On your first visit to an osteopath, a through case history will be taken followed by an in-depth evaluation of the structures of your body.  The safety and precision of the treatment is ensured by the detailed medical history.  A full body examination will be performed because it is important to asses the function and effect that all the structures, however distant, have on the painful area.
An osteopath may initially focus on the musculoskeletal system (muscles, bones and connective tissues), which reflects and influences the condition of all other body systems and makes up about two-thirds of the body's mass.
An osteopath helps the body heal itself by initially diagnosing the cause and nature of the complaint and then using manual techniques to address the structures involved in the dis-ease, pain or illness.
Osteopaths use their eyes and hands to identify structural problems that are preventing the body's natural tendency towards health and self-healing. Treatment is adjusted to the requirements of the individual and is aimed at improving whole body function.
Before treatment, an osteopath will explain to you their findings from both the case history and physical examination, helping you to understand the diagnosis. The osteopath will form a treatment plan with you.
The basis for a successful treatment lies in the art of palpation (touch), which in the hands of a skillful practitioner is effective, painless, exact and safe.
Osteopaths are primary care providers, medically trained and can differentially diagnose.  This involves examinations, including the cardiovascular, neurological and respiratory systems and reading medical imaging such as X-rays and MRI scans.
A whole-istic treatment includes addressing the development of the patient's attitudes and lifestyle that do not just fight pain or illness, but help prevent and resolve them.
"An osteopath might be likened to an engineer, a watch-smith of the organism, who not only evaluates and treats the causes of dysfunction, but also verifies preventively all the necessary mechanisms and systems of our physiology, which rule the balance and health of a Human Being."